A burger isn't just a burger in this country: It's a deeply local food. You can only find these riffs on the classic in certain pockets of the U.S. Get ready to bookmark some favorites.

---
Green Chili Cheeseburger
WHERE TO FIND IT:
Santa Fe, New Mexico
While you can eat your fill of this icon up and down the state (there's even a dedicated trail to follow), this one is noteworthy for its slow-cooked sirloin patty and just-hot-enough Hatch pepper blend. Though not traditional, add the applewood smoked bacon. You won't regret it.
---
Carolina Burger
WHERE TO FIND IT:
Monroe, North Carolina
Forget lettuce and tomatoes! Say you want this burger "all the way," which is code for a patty buried in chili, tangy coleslaw, and onions.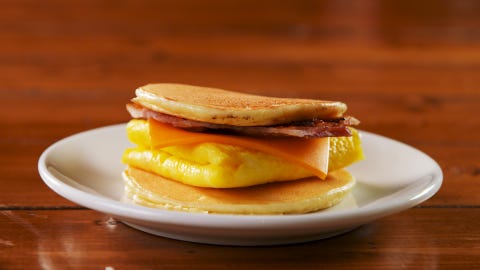 ---
Bean Burger
WHERE TO FIND IT:
San Antonio, Texas
Being a proud Texan, I'm ashamed to admit I've never actually tried this local legend. This version swaps out the classic refried beans for black (which are pureed and spread on like a condiment), then gets piled with salsa, guacamole, cheddar, and Fritos for crunch.
---
Steamed Cheeseburger
WHERE TO FIND IT:
Meriden, Connecticut
No griddle or grill, just steam cooks these world-famous "cheeseburgs," as fans lovingly know them. The old-school process melts away the fat and produces a supremely juicy patty. They come topped with the classic stuff, nothing fancy. I guarantee you won't miss the char.
---
Onion Burger
WHERE TO FIND IT:
Oklahoma City, Oklahoma
Proof that sometimes less is more, this ridiculously simple prairie staple comes with a mountain of grilled white onions topped with melty cheese. Yellow mustard recommended.
---
Olive Burger

WHERE TO FIND IT:
Lansing, Michigan
This family-run joint, credited with creating the Michigan delicacy, still uses Great-grandma Bowlin's original recipe from the 1920s. Her exact "olive sauce" concoction is top secret, but the main components are mayonnaise mixed with chopped green olives and their brine for a sharp, salty experience.
---
Butter Burger
WHERE TO FIND IT:
Milwaukee, Wisconsin
"America's Dairyland" really delivers with this national treasure: a patty topped with a scoop of…wait for it…butter that melts over the meat. Order it "Cheesehead" style (above), and you'll also get stewed onions, three types of cheese on a brioche bun, and that cute little wedge.
---
Pastrami Burger
WHERE TO FIND IT:
Salt Lake City, Utah
For meat lovers only. Invented by a Greek immigrant restaurateur, this is equal parts beef patty and meltingly tender shaved pastrami. "Fry sauce" (the state's beloved spin on Thousand Island) and a sesame bun make it perfect.
---
Jucy Lucy
WHERE TO FIND IT:
Minneapolis, Minnesota
This 'grammable spectacle consists of two patties that wrap around an oozing molten slab of American cheese. (How you know you're eating the original: There's no "i" in the name—a spelling error that stuck after it was put on the restaurant's menu.)
Jackie Iadonisi's number one priority in life is to not look back and think: "I could have eaten that." As Delish's West Coast eater-at-large, she hosts and produces videos on Youtube and Snapchat. She has previously worked as a food correspondent for The Travel Channel, Access Hollywood, and The Real Daytime.