Specialty: California, French, and fusion cuisine
Best known for his vast restaurant empire, Wolfgang Puck has had a profound influence on American and international dining. With three separate divisions, Wolfgang Puck Fine Dining, Wolfgang Puck Catering, and Wolfgang Puck Worldwide, chef Puck's culinary holdings include sophisticated dining locations, a catering service, and a franchise of casual restaurants, consumer products, and media projects.
Puck was born in an Austrian town, where he began cooking alongside his mother at a young age. At age 14, Puck began his culinary training and worked in some of the best restaurants in France. Ten years later, the young chef moved to the United States, where he began his first job at LaTour, a restaurant in Indianapolis.
In 1975, Puck moved to Los Angeles, and he gained immediate attention from the media as chef and then part-owner of Ma Maison in West Hollywood. From there he created his first restaurant, Spago, also located in West Hollywood. Puck's now famous dishes, such as his gourmet pizzas topped with smoked salmon and caviar, earned the chef a degree of notoriety. Spago and Puck received numerous accolades, including two James Beard awards for Outstanding Chef of the Year in 1991, and Restaurant of the Year in 1994. After Spago moved to Beverly Hills in 1997, it received two Michelin Stars, one of only three Los Angeles restaurants to receive this honor.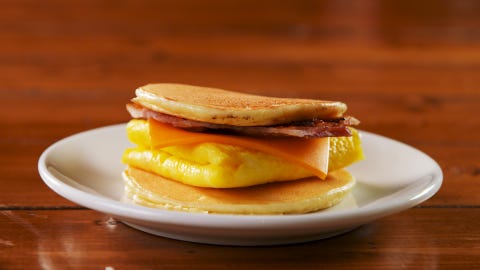 Puck then opened Chinois, in which he experimented with a fusion of Asian flavors, and Postrio, taking inspiration from the melting pot of San Francisco. From there, Puck has introduced 13 additional fine dining restaurants. Launched in 1998, his catering service is the official caterer of the Academy of Motion Picture Arts and Sciences' annual Governor's Ball. In 1991, Puck opened a chain of Wolfgang Puck Bistros, which offer his signature pizzas and other dishes at affordable prices. He has written six cookbooks, made numerous television appearances, and has had his own television show on the Food Network.
Puck is also involved with many philanthropic activities. His main endeavor is Wolfgang's Eat, Love, Live (WELL). This is a commitment to provide food made from the healthiest, freshest, most natural, and organic products possible.
Wolfgang Puck lives in Los Angeles with his wife, Gelila, and four sons, Cameron, Byron, Oliver, and Alexander.
Recipes:
Chinois Lamb Chops with Cilantro Mint Vinaigrette and Stir Fried Vegetables
This content is imported from OpenWeb. You may be able to find the same content in another format, or you may be able to find more information, at their web site.