Specialty: Pastry chef and master baker
One of the country's top chefs pays her respects to a simple ingredient: bread. Thanks to her focus on the simple sourdough, Nancy Silverton's career has risen much like the loaves she bakes.
After extensive training in Europe at London's Le Cordon Bleu and the Ecole Le Notre in Plaiser, France, Nancy Silverton was hired by Wolfgang Puck in 1982 as pastry chef for Spago, the restaurant that helped jump-start Californian cuisine.
California, and the country in general, lacked the flavorful, crusty sourdough breads Silverton became familiar with in Europe. She dedicated herself to learning the art from these baking adventures, and La Brea Bakery was born in 1989. An instant success, Le Brea and Silverton became the go-to experts on the nearly lost art of artisanal bread.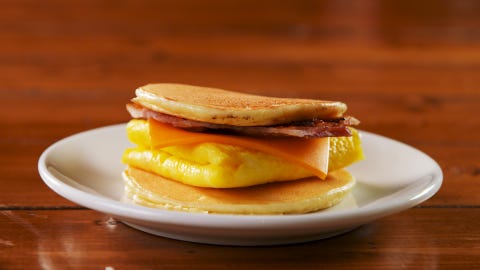 Despite how busy her work at the bakery kept her, Silverton helped opened Campanile six months later. She served as head pastry chef of the new Los Angeles restaurant, with her then-husband, Mark Peel, as executive chef.
Proving that hard work does not go unnoticed, Silverton was honored in 1990 as the James Beard Foundation's Pastry Chef of the Year, and Food & Wine magazine named her among the year's best chefs.
As Campanile developed, Silverton used her creativity to have some fun with the menu: Thursday nights were transformed into all sandwiches, all the time, offering 12 different types of sandwiches, served, of course, on Silverton's high-quality bread. Bringing this Los Angeles phenomenon to the masses, Silverton turned her ideas into her third cookbook in 2002: Nancy Silverton's Sandwich Book: The Best Sandwiches Ever — from Thursday Nights at Campanile.
Silverton sold her share of La Brea in 2001, as well as Campanile, freeing her up to explore other ideas, including a mozzarella bar and antipasti table at two different Los Angeles restaurants, Jar and La Terza. Experimenting with Italian ingredients inspired her next big project, a collaboration with chef Mario Batali.
In 2006, the two, along with Batali's business partner, Joseph Bastianich, opened Pizzeria Mozza in downtown Los Angeles. While antipasti and salads are served, pizza rightfully steals the culinary spotlight.
The restaurant earned a three-star review from the Los Angeles Times and tables are often booked solid up to a month in advance. Osteria Mozza, a formal-dining restaurant, was opened in the same space as a complementary companion restaurant.
Nancy Silverton's latest book, Twist of the Wrist, debuted in 2007.
This content is imported from OpenWeb. You may be able to find the same content in another format, or you may be able to find more information, at their web site.