We earn a commission for products purchased through some links in this article.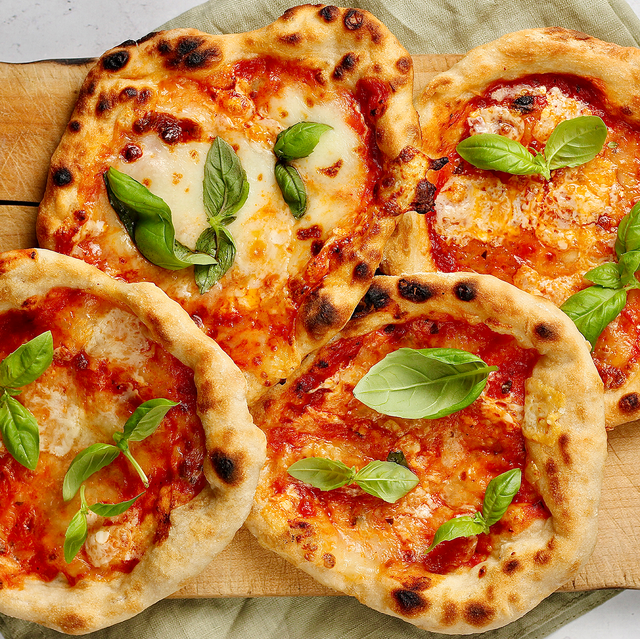 Pizzettes are adorably cute baby-sized pizzas that are fiercely moreish.
The no-knead, wet dough in this recipe creates crispy, light and open textured pizzettes without the use of a mixer or rolling pin. Although wet dough is a bit trickier to handle than regular pizza dough (as it needs a lighter touch) the results are worth it.
Baking these pizzettes on a preheated oven tray immediately exerts a surge of heat into the dough, helping to create bubbly air pockets that lead to a crispy, chewy crust that's characteristic of a proper pizzeria-style pizza.
We've topped our pizettes with a quick tomato sauce, creamy mozzarella, salty parmesan and fresh basil but feel free to use whatever you like. To turn these little fellas into garlic bread pizzettes, blitz together fresh garlic with olive oil and dried Italian herbs before liberally smearing over and baking (a cheeky grating of parmesan wouldn't go amiss either).
For the dough
250 g
strong white bread flour, plus extra for dusting
For the sauce
1/2 tsp.
dried Italian herbs
Toppings
Fresh basil leaves, picked
Garlic-infused extra-virgin olive oil (optional)
To make the dough, put all ingredients in a large bowl and mix with a spoon until fully incorporated. Cover with a tea towel and leave in a warm place to prove for two hours.
Meanwhile, heat 1/2 tablespoon oil in a small pan over medium heat. Add remaining sauce ingredients and cook for two minutes, until slightly reduced. Set aside.
Pre-heat oven to 220ºC (200ºC Fan). Release the risen dough gently from the sides of the bowl and tip out onto a well-floured work surface. Scatter more flour over the top of the dough and gently shape into a circle without knocking out the air (this is a wet dough so it will be sticky. Use more flour as needed). Divide the dough into 8 segments using a dough cutter or sharp knife.
Take each segment, and using a light touch, tuck the edges underneath to create a ball. Place on a floured tray and cover again for 30 minutes. Set a baking tray on the middle shelf to pre-heat.
Take a sheet of greaseproof paper as big as the baking tray, scrunch it up and wet it under a running tap. Squeeze out the excess water and lay it on your counter ready for the pizzettes. Oil your hands and fingertips. Place a ball of dough on the greaseproof and press your oiled fingers into the centre to create an indentation for the sauce. Gently spread the dough to about 9-10cm in radius with your fingers. Repeat with the other balls of dough, making sure to retain as many air bubbles as possible.
Spread a teaspoon of sauce on the centre of each pizzete and top with mozzarella and parmesan. Drizzle over some garlic infused olive oil.
Remove the hot tray from the oven and turn it upside down. Transfer the greaseproof paper and pizzettes onto the upside down tray and immediately place in the centre of the oven. Bake for 15-17 mins until golden and risen. Scatter fresh basil over the top and serve immediately.