We earn a commission for products purchased through some links in this article.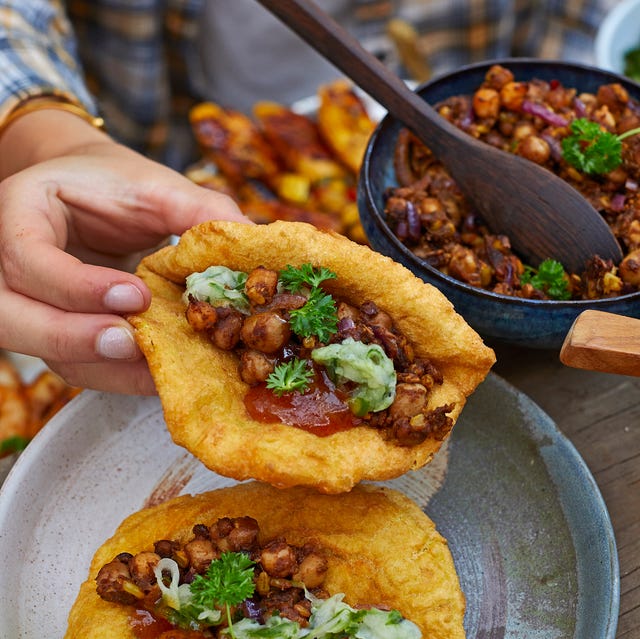 Doubles is a delicious street food snack from Trinidad and Tobago, consisting of barra (fried flatbreads) and channa (a spicy chickpea curry). You'll find these at most carnivals in the Caribbean as an on-the-go snack, for breakfast, or as a post night-out treat, and they're just about the tastiest things, ever.
Why are doubles called doubles?
The name "doubles" comes from when customers would ask the street food vendors to double up on barra to create a sandwich-like snack.
What do you eat doubles with?

Doubles tend to be eaten as they come, as they're already filled with a delicious serving of channa. But, if you wanted to take the street food favourite to the next level, you could add additional condiments like a pepper sauce (from Trinidad), kuchela or tamarind sauce.

Prep Time:
0

hours

30

mins
Total Time:
1

hour

30

mins
For the barra
1 tsp.
fast-action dried yeast
Vegetable oil, for frying
For the channa
4
garlic cloves, peeled and finely chopped
1
medium red onion, peeled and finely diced
2
x 400g chickpeas, drained
2 tsp.
cornflour, mixed with 2tsp water (if needed)
For cucumber chutney
1
garlic cloves, peeled and finely chopped
To serve
Handful coriander, finely chopped
To make the barra: In a large mixing bowl, combine the flour, yeast, turmeric and salt and mix. Gradually add in 250ml warm water mix until the mixture begins to form a dough. Knead into a ball, then cover with a damp cloth and leave to rise in a warm place for at least an hour, until doubled in size.
Next, make the chana. In a large pan over medium heat, heat 1tbsp vegetable oil. Add garlic and onion and cook for five minutes until onion is softened. Add ginger and curry powder and mix until fragrant. Add chickpeas and coat in the spice mix, cook for a further five minutes.
Add 250ml water and bring to a boil. Lower heat and allow to simmer for 15 minutes. If sauce needs to thicken more, add your cornflour slurry. Season with salt and pepper.
Time to fry your barra! After your dough has risen, punch it down and let it rest for a further 10 minutes. Dampen your hands with oil or water and tear off a small piece of dough at a time, rolling into a ball then flattening then into rounds (about 11cm). Brush a little with oil so they don't stick and place onto a baking tray until ready to cook.
Heat enough vegetable oil into a deep saucepan so that it fills up about 8cm. Once the oil is hot, turn down to a medium heat and add the barra flatbreads in the oil for 8-10 seconds each side, until puffy and golden. Be careful when cooking with oil! Using tongs, remove and place on paper towel or wire rack to drain.
To make the cucumber chutney, blend garlic, Scotch bonnet, salt, pepper and lemon juice together. Mix in grated cucumber.
To serve, spoon 1tbsp channa on top of a barra, top with desired condiments and enjoy!