35 Slow-Cooker Chicken Recipes for Easy Weeknight Meals
It's like someone's making dinner for you.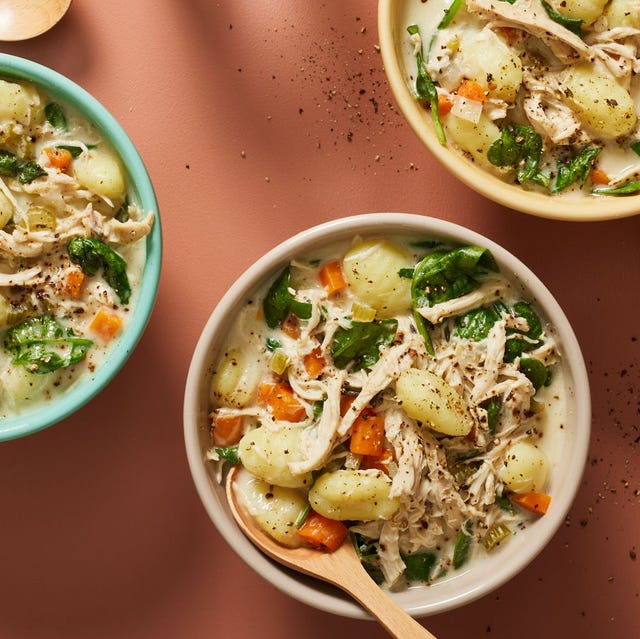 Ever wish you had dinner on the table without, ya know, having to cook it? Well, thanks to your slow cooker, these chicken dinners basically make themselves. And since chicken and slow cookers are a match made in dinner heaven, you're only a few minutes of prep away from tender, fall-apart chicken for tacos, pasta, soups, and more. After you try our recipes for slow-cooker chicken thighs, Crock Pot chicken fajitas, and brown sugar BBQ chicken, you'll be setting it and forgetting it to make some truly unforgettable meals.

These slow-cooker chicken recipes just might be the easiest recipes ever, and perfect for the beginner cook. It's basically impossible to overcook your slow-cooker chicken cacciatore when it's being cooked low and slow. And did you know you can even cook a whole rotisserie-style chicken right in your Crock Pot?! Now you do. You'll be so glad you have leftover rotisserie chicken when it looks this good.

New to slow-cookers and Crock Pots? We tested all the best slow cookers, so you can find the perfect one for your kitchen. Slow cookers also make parties and the holidays so much easier (and help you save on oven space), making it even simpler to have party-ready slow-cooker dips and even a whole Thanksgiving dinner in your slow cooker.

And if you're looking for more slow-cooker recipes, we've got something for everyone, like our healthy Crock-Pot recipes, beginner slow-cooker recipes for two, and fall slow-cooker recipes. Loving that countertop appliance life? Don't miss our best air fryer recipes and Instant Pot recipes.