19 Stuffed Zucchini Recipes
It's what's on the inside that counts.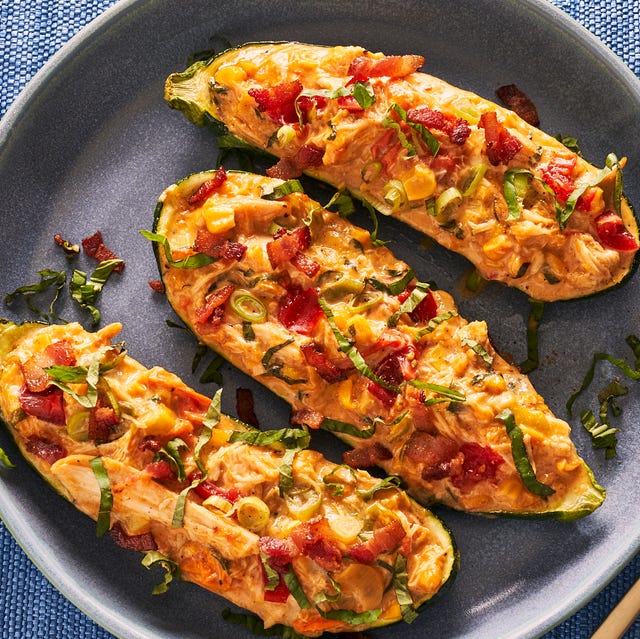 PHOTO: ANDREW BUI; FOOD STYLING: LENA ABRAHAM
Looking to add more veggies to your meals? Look no further than zucchini boats! They're easy to make (unlike, ahem, zoodles), individual-sized, and can help you get more greens into everything from pizza to macaroni & cheese. Bonus: they're a great low-carb option too, and can be enjoyed by everyone in your family. Check out our list of 20 stuffed zucchini recipes—truly, it's what's on the inside that counts. 😉
Cauliflower baked "ziti", pork rind-coated keto fried chicken, cashews as cheese in vegan queso… we love a good diet-friendly food hack. Zucchini are TOPS for low-carb replacements, and these stuffed zucchini recipes are particularly delicious. You can take all the flavors and ingredients of your favorite high-carb dishes, and stuff them into a zucchini boat. Check out our lasagna-stuffed zucchini, our pizza zucchini boats, our zucchini burrito boats, or our tuna melt stuffed zucchini for ideas. Sure, they're not exactly the same as pizza or pasta, but we think they hit the spot.
And don't worry, these aren't ALL extra healthy. Sometimes we just want to eat out of a convenient, personal-sized boat (and, sure, the added veggies don't hurt either). Try our Italian sausage stuffed zucchini, our chicken chowder stuffed zucchini, or our macaroni & cheese stuffed zucchini to see how versatile they are. You can kind of stuff anything into a zucchini boat, so feel free to fill 'em up with your weeknight dinner faves.
Want more healthy inspiration? Check out our favorite healthy summer recipes, quick and easy fruit desserts, and our best grilled vegetable ideas too.