30 Creative Carrot Recipes
A year-round veggie that's good in savory and sweet recipes? We're in love!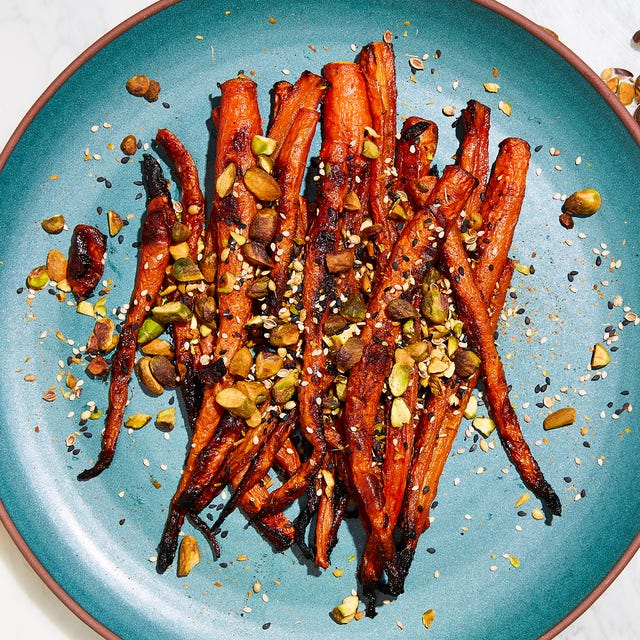 While we're all about seasonality, we've got a soft spot for produce that's available and delicious all year round. Potatoes get all the glory, but we'd like to give carrots some much deserved spotlight. They're super cheap, are enjoyable no matter how you cook them, and are great in everything from side dishes to dinner. Plus, they're the basis for one of the best desserts ever—carrot cake. Potatoes could never. Check out our 30 carrot recipes for ideas!
When it comes to a side dish that's simple yet exciting, easy to make but still impressive, nothing beats one made with carrots. Pair them with a simple glaze or marinade (we like them with a little honey or mustard), and then roast them, steam them, grill them, or even air fry them. They truly take well to pretty much any preparation. Try turning them into pickles and putting them on ALL your lunch sandwiches (they're the crunchy classic on a Vietnamese banh mi for a reason). Take them to your next BBQ as a side, like classic coleslaw or a Moroccan carrot salad. Cold out, or feeling under the weather? Turn those carrots into a warm and comforting soup, like our carrot and coriander soup or carrot ginger soup. You can even use them to replace meat (😮), like in our carrot hot dogs or carrots in a blanket. They might never fully replace your favorite hot dogs, but trust us, they make for a pretty delicious vegetarian alternative.
Want even more veggie inspiration? Check out our favorite fall butternut squash recipes, summer zucchini recipes, and spring asparagus dishes too.