17 Spectacular Ice Cream Sundaes
Take your ice cream game to the next level this summer.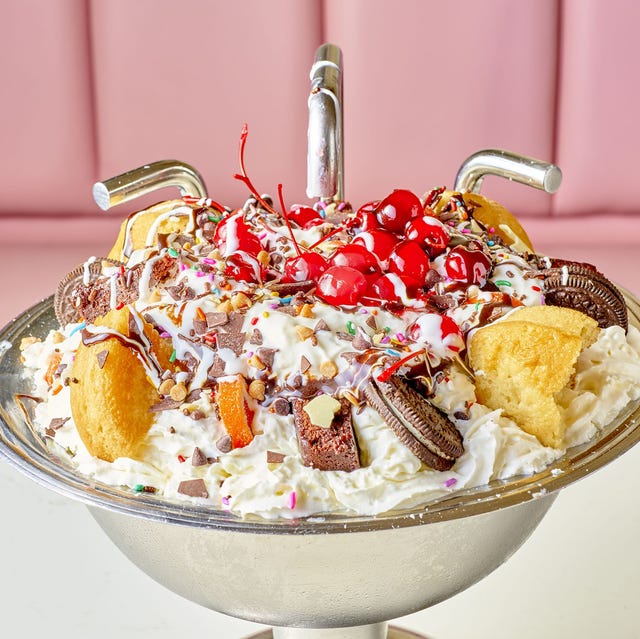 If you're like us, you're way more likely to eat ice cream straight from a store-bought pint for dessert than to build a sundae out of it. We're here to tell you though, when it comes to special occasions, birthdays, and theme parties, there's nothing better than an ice cream sundae. Check out our 17 recipes for flavor ideas—but truly, there's no wrong way to make one.
At their most basic, an ice cream sundae is a (glass) bowl of ice cream topped with sauce or syrup, whipped cream, a maraschino cherry, and sprinkles. There are a number of stories as to where the sundae got its name (was it served 0n a Sunday? Was the creator someone with the last name Sunday? We may never truly know), but what is true is that everyone's got a favorite recipe. Take inspiration from some of ours, like our Froot Loops sundae (with raspberry sauce), our s'mores sundae (self-explanatory in the best way), our spiked chocolate brownie sundae (crumbled brownies, hot fudge, and a drizzle of Godiva liquor), or our Eton mess sundae (meringue + strawberry). Can't pick just one? We get it. You could make Disney's monstrosity of a kitchen sink sundae—it's got bananas! cupcakes! an entire can of whipped cream!—pretty much everything you could want, including the sink. OR make a sundae bar with all your favorite toppings—you won't have to share or choose.
Too cold out for ice cream, or does a massive bowl of dairy seem like a lot? Don't worry, you can still get your sundae fix. Try one of our sundae-inspired recipes instead: We've got ice cream sundae cupcakes, hot fudge sundae nachos, grilled peach sundaes, hot fudge sundae dip, and grilled pineapple sundaes. You can even enjoy a breakfast sundae—just swap out the ice cream for your favorite yogurt flavors (don't worry, we're still topping with sprinkles and a cherry).
Want more chilled dessert ideas? Check out our favorite milkshake recipes, no-bake desserts, and icebox cakes too.