25 Savory Pineapple Recipes To Work Into Your Dinner Plans
Juicy is an *understatement* when it comes to these sweet-savory meals.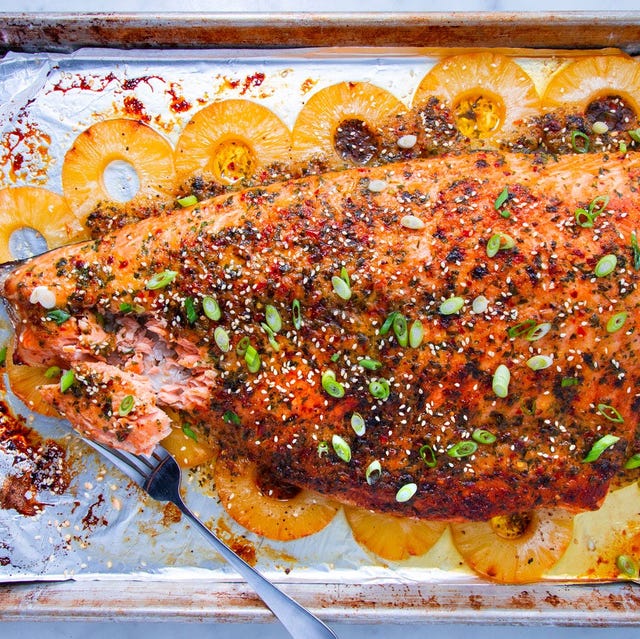 Not going to lie, our main objectives for eating and cooking are pretty much...to eat like we're on vacation. Because why not? Life is too short to miss out on recipes that take us straight to our happy place (Bora Bora, Maui, Bali, we could go on...).

Thanks to our spiky friend the pineapple, we can instantly transport our favorite stir-fries, skewers, and tacos to a deliciously sweet-savory state—no passport required. What you'll also find throughout these slides: a very fun (edible!) way to eat chicken teriyaki pineapple bowls or pineapple shrimp. We won't be surprised if you want to serve the rest of these dishes straight from the source.
Whatever you do, don't be intimidated by cutting a pineapple. We have all the tips and tricks on the easiest way to properly cut a pineapple so you can maximize all the juicy cubes and, yes, juice. Save that liquid gold for the next marinade you mix up for chicken, shrimp and even carne asada recipes.

If you're not in the mood for chopping up a whole pineapple (or only need a little), there's plenty of opportunities to use canned pineapple in these recipes. We actually prefer the perfectly round pineapple rings for our baked pineapple salmon and for topping Maui burgers.

The best part of having leftover pineapple rings or crushed pineapple is that you now have plenty more to top your favorite kitchen sink sundae. Can't get enough pineapple? Try our best pineapple desserts and grilled pineapple recipes.