38 Creative Quesadilla Recipes That Go Beyond Just Cheese
You'll never make just plain cheese again.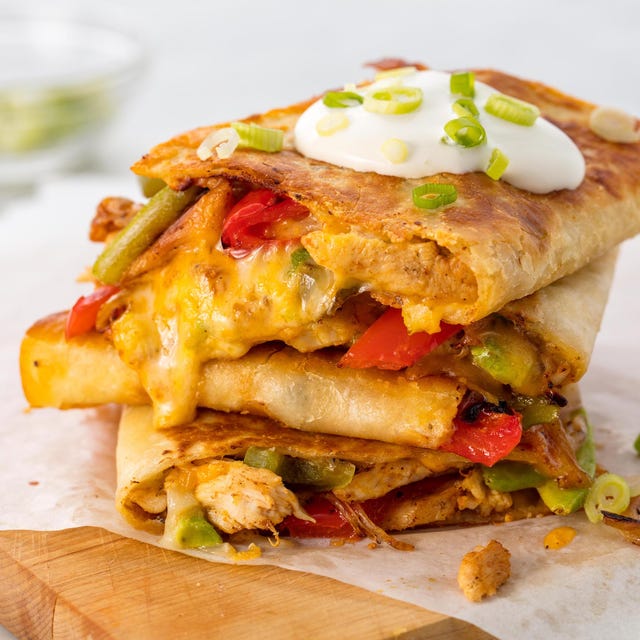 Is there a more perfect food than a quesadilla? They're simple to assemble, quick to cook, and satisfy every carby, cheesy craving we could ever have. We enjoy them for a quick lunch, a cheap and easy dinner, and especially as a midnight snack. Okay okay, sure, you're probably thinking you don't really need a recipe for this insanely popular Mexican dish. But if you're looking for some guidance, especially in what to stuff them with or how to assemble them, these recipes won't let you down. Check out our 38 best quesadilla recipes—trust us, it goes way beyond just cheese and tortillas.
At their simplest, to make a quesadilla all you do is top a tortilla with cheese, then fold it in half and cook it in a skillet until the tortilla is crispy and the cheese is melty. Where things get exciting is when you think about all the creative ways you can shake up this simple formula.
Change up the cheese: In Mexico, you'll find most quesadillas filled with Oaxaca cheese, a stringy Mexican cheese. It has a mellow, buttery flavor similar to Monterey jack but its texture and meltability more closely resembles mozzarella. Our Big Mac quesadillas use American and cheddar, our chicken cordon bleu quesadillas use Swiss and mozzarella, and our buffalo chicken quesadilla uses gouda and Monterey Jack, so go with whatever you like. It's a little sacrilege, but you could even use cream cheese or marshmallow fluff and turn it into a dessert, like our caramel apple cheesecakeadilla or our cookiedilla.
Change up your tortilla: Corn tortillas are the traditional option for quesadillas, though nowadays (and stateside), you're just as likely to find them made with flour tortillas. Go with whatever you got—it's really up to your preference. If you want to branch out even more, try subbing your tortilla for something else entirely, like pita in our Greek quesadilla or cauliflower in in our cauliflower quesadilla. Though quesadillas are traditionally made in a skillet, you can also switch up your cooking method. Try our waffle iron quesadillas, our grilled chicken quesadilla, or our foil pack cheese quesadilla for ideas.
Mash-up time: The simple idea behind a quesadilla is ripe for combing with other flavor combos. Try our pizzadillas, our sloppy joe quesadillas, and our quesadilla burgers to see what we mean. Take inspiration from them, and then create your own—you might just come up with a new favorite.
Want more Mexican food inspiration? Check out our best salsa recipes, our top tacos, and our favorite Mexican desserts too.