40 Camping Recipes To Make On Your Next Trip Outdoors
Think outside the hot dog bun.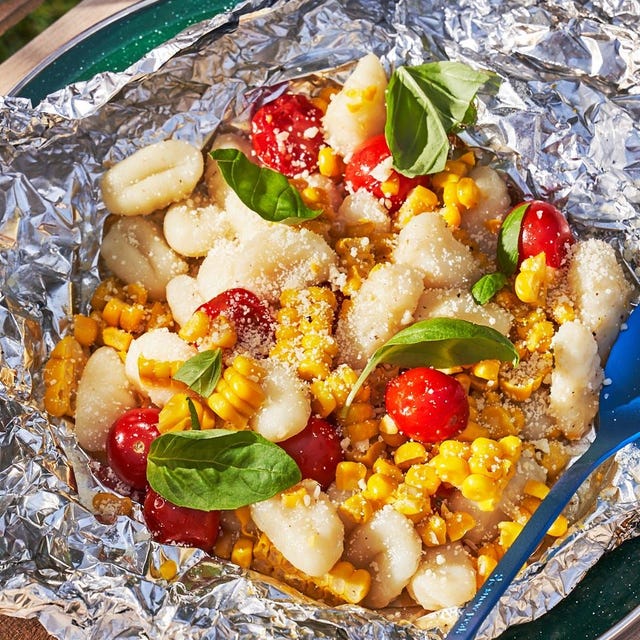 Summer is PRIME camping time. Even if you've been doing it for years, there are plenty of ways to upgrade your campfire kitchen. With these easy skillet, skewer, and campfire recipes, you'll be eating well in the great outdoors from breakfast to dessert. Whatever you choose to cook, we've got plenty of tips on how to build a solid cooking fire so you'll never be too far away from having campfire popcorn, campfire Caprese brie, and skillet beer cheese. And of course, TikTok creators have some genius tips for cooking over a campfire. You'll wish you could cook all your meals over a campfire.

When it comes to cooking over a fire, it definitely does not have to be the same ol' weenies on a stick. We love how foil packs take all our favorite home-cooked meals and make them campfire-friendly, with almost zero cleanup. Check out all our favorite foil pack recipes, like these gnocchi foil packets, berry crisp foil packs, and surf 'n' turf foil packs. Your favorite cast-iron skillet meals are also super campfire-friendly, making it almost too easy to make loaded campfire nachos, skillet beer cheese, and a campfire breakfast skillet.

Looking to replace your camping gear or upgrade your campfire kitchen? We have a handy guide to all the best camping gear and best camping cookware that will turn anyone into an outdoors expert. Camping on a budget? Check out our handy $20 Budget Eats guide to feeding four people while camping.