Breakfast: Avocado Toast (You've heard of this, right?)
Okay, I know this idea is not a revelation, but I just couldn't leave avocado toast out of this list—it's one food trend we can wholeheartedly get behind. Just mash up 1/2 a ripe avocado, spread it on toast, and top with any of your favorite veggies and condiments, like tomato slices, radishes, fresh herbs, hot sauce, olive oil, or lemon (we highly recommend all of the above). Put a fried, poached, or hard-boiled egg on top for an extra dose of protein.
Try It: Pumpernickle with Avocado, Charred Corn, and Tomato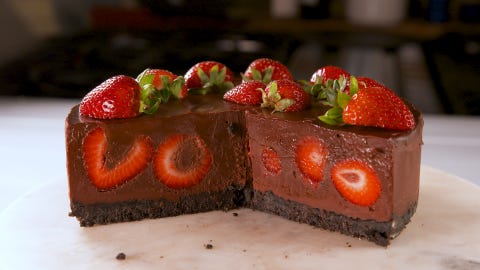 Breakfast: Green Smoothie
And for another super easy breakfast idea, try pureeing half an avocado into your favorite smoothie recipe to add extra nutrients and give it a thick, creamy texture. (Ours includes super-hydrating coconut water.)
Try It: The Hands-Down Greatest Breakfast Smoothie
Lunch: Salads
Smooth, creamy avocado adds healthy and filling fats to otherwise light meals, making any salad a green lunch worthy of being served as a main dish. I top my favorite greens, like spinach, with freshly sliced avocado, other brightly colored veg, and a light vinaigrette.
Try It: Spinach Salad with Tuna and Avocado
Try It: Grilled Corn and Avocado Salad
Lunch: Sandwiches and Wraps
I always use avocado as a great addition to vegetarian sandwiches. Or, I swap it in for mayo in any sandwich (with meat or without)—it adds a little fat without guilt.
Try It: California Veggie Sandwich
Try It: Avocado and Ham Sandwiches
Dinner: Pasta
Pasta and avocado might sound like an unusual combo, but trust me when I say it's worth trying. When the pasta is warm and the avocado already mashed, it becomes a thick "sauce" perfect for coating noodles. Or, leave it in large chunks for a surprisingly rich addition to a cold pasta salad or green veggie-packed dish.
Try It: Asparagus, Snap Pea, and Avocado Pasta
Dessert: Pudding or Mousse
Yes. Believe it or not, mildly flavored avocados can add a creamy texture to chocolate pudding—and I particularly love this version because it requires absolutely no cooking!
Try It: Chocolate Pudding
Dessert: Ice Cream
It's hard to get your head around, but try it: I add avocado to a lightened up ice cream recipe, too, for twist on a summer sweet.
Try It: Avocado Gelato
Hometown:
Novi, Michigan
7-second life story:
I'm a Midwestern transplant who discovered my passion for food later on in life, but am now completely, madly obsessed with pork, chocolate, booze, and basically everything delicious that you're not supposed to love. No matter how crazy things get, baking calms me down when I'm stressed and makes me feel that all is right with the world.
3 things I make better than anyone else:
Pie crust, pizza (from scratch), mac and cheese (my fave version has bacon, pumpkin, and sage in it)
Recipe I'm on the eternal hunt for:
The best homemade caramels (I've attempted so many different recipes, but the texture is never exactly what I want it be)
Kitchen technique I just can't get right:
Not burning myself – somehow I always seem to end up injuring myself on a hot pot or scorching myself on the oven door, and I've got the scars to prove it.
Follow me on Twitter
@laurenlhaslett
.
This content is imported from OpenWeb. You may be able to find the same content in another format, or you may be able to find more information, at their web site.