35 Delicious Smoothie Recipes For When You Need A Healthy Breakfast On The Go
Eating your fruits and veggies is way better when they taste like dessert.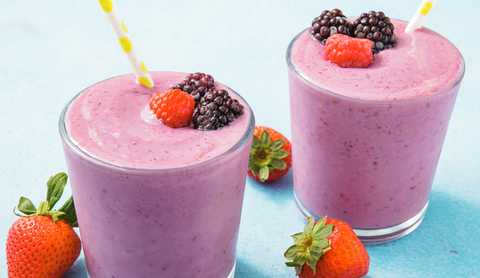 So you've just woken up, you need to workout, but you're also kinda hungry—this is the perfect smoothie opportunity! If you add protein powder a smoothie is just filling enough to keep you satiated for a few hours, but not too heavy that you'll need a nap after breakfast. Eating your fruits and veggies blended all up tastes way better anyways—so whether you like berry smoothies, chocolate protein shakes, or green machines, we've got something you'll love. If you have chosen to go the vegetarian route, these hearty drinks are the way to go because eating that much fiber in vegetables can get to be a little much!

Smoothies are basically the saving grace to curbing hunger fast. As long as you have some frozen berries in the freezer, a little protein powder and a blender—you're golden. We like experimenting with more hearty greens (kale) in the winter, and when in doubt, add ginger—the world's oldest antibiotic—to everything!

For more good for you recipes, check out our healthy breakfasts and our favorite healthy snacks.