47 Italian Pasta Recipes Beyond Spaghetti & Meatballs
But obviously that's on our list, too.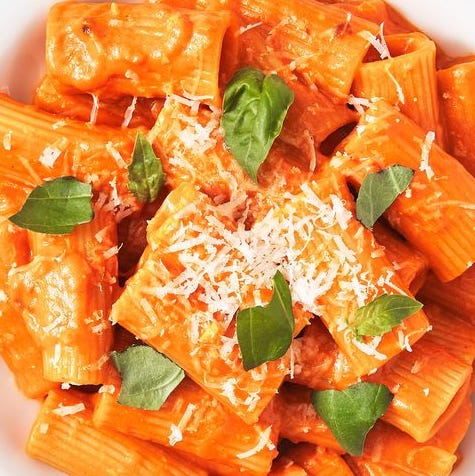 If you're like us, when you're craving Italian, you immediately think of carb-heavy noodles, enjoyed above a crisp white tablecloth in a candlelit, fancy restaurant. What if we told you that you could make some of your beloved Italian dishes at home (real pants and Italian music optional)? Now that's amore! Say goodbye to expensive menus and the stress of indoor dining and get inspired by these 45+ Italian pasta recipes.

We've got the classics, like pasta carbonara and lasagna, but we've snuck in a few recipes with a twist too (hint: fried raviolis!). Do you want Italian vibes, but it's cold out and you're craving soup? You can have it all with chicken parm or lasagna soups that are truly the best of both worlds. Looking for something a little more low-key? Try one of our easy roll-up recipes — they come together in no time, and couldn't be more delicious.

One of the best things about these recipes is how adaptable they are. Once you pick your favorite sauce and noodle, the options really are endless. Italian is the language of love, and we think you should love your meals too, even if that means they're a little less traditional. Love olives and capers but not anchovies? You can totally skip them in your puttanesca. Hate spaghetti (or have kids who can't quite handle the fork maneuver yet)? Swap it for penne or gnocchi, no problem. We also love a mash-up, and nothing works better than combining two Italian ideas into one. Pizza + lasagna? There's no surprise that's a match made in heaven. Mangia!

For more region-specific ideas, check out our list of Asian, Mexican, and Greek dishes.