40 Homemade Easter Candy Recipes To Fill Up Your Baskets
The more candy, the better!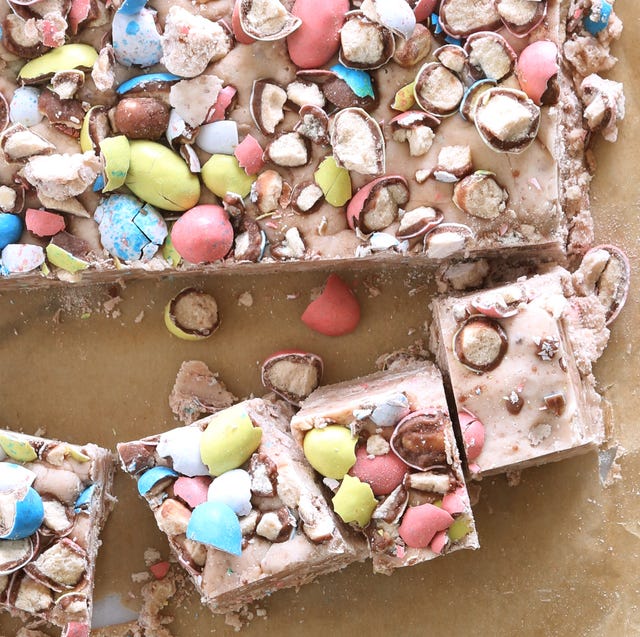 It's Easter, and you know what that means: Easter candy! Even as adults who won't be getting near an Easter Egg hunt, we get a little giddy around Easter baskets every year. We've been picking up Peeps and Reese's eggs with our toothpaste and vitamins since they started showing up after Valentine's. Now that the springtime holiday is actually upon us, we want to do something a little more special and make our own sweet treats. Home cooks of any skill level can make these 40 recipes that *might* even be better than the store-bought stuff.
When it comes to easy candy making, it's all about fudge and truffles, so we've got a ton of recipes for both. Everything from the more basic, like classic peanut butter fudge, to some you may be less familiar with, like Brazilian brigadeiros (think extra chewy chocolate truffles). A few recipes, like our fantasy fudge and peanut brittle, DO use a candy thermometer, but we promise it's worth the extra effort. Getting comfortable with the proper temperature for candy making may seem difficult, but once you get the hang of it, you'll feel like a confectionary wizard.
And don't worry, store-bought Easter candy continues to make an appearance, like in our Whopper's Robin Egg fudge. Feel free to find your favorites and incorporate them into these recipes — everything looks cuter with a miniature egg or bunny on top.
For more springtime inspiration, check out our Easter dinner and side dishes (you're going to need some sustenance to go along with all this sugar!). Want even more sweet ideas? Check out our Easter cakes and cupcakes too.