80 Delicious Party Dips That Will Get More Attention Than The Game
When I dip, you dip, we dip.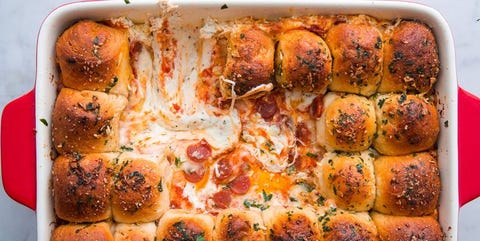 Make room for the life of the party: Dips. These savory, spicy, and sweet dips are always the star of the show—and pull double-duty during football season, especially once Super Bowl Sunday rolls around. Beer cheese dip? Yes, please. Hot crab dip? What?! Not to mention everyone's favorite Italian dish, eggplant parmesan, which we officially turned into a dip this season because why not?!
When it comes to parties, finger foods are the way to go. The only thing worse than no snacks at a party, are parties that require you to put down your cup of touchdown punch, pick up a plate, and maneuver around the table with as few awkward elbow bumps as possible. Dips are easy, the dishes are always scraped clean, and the only serving utensil you have to worry about is which tortilla chip to choose.
You're going to loooove being known as the friend who takes dips to new levels. Fun dips are also a very welcomed party favor; a bottle of wine gets old after a while! If you're concerned about your gluten-free guests, there are a few chip brands that are making tortillas out of almond flour and we're all about it. Our favorite is Siete or you can just cut up some carrots and go classic with crudités: cucumbers, carrots and celery make great dip vehicles!

For more party ideas, check out our easy appetizers and healthy dips. And for a super-easy cocktail, you can never go wrong with our Harvest Punch.