14 Insanely Addictive Party Crostini
The key to any delicious party? Crostini—lots.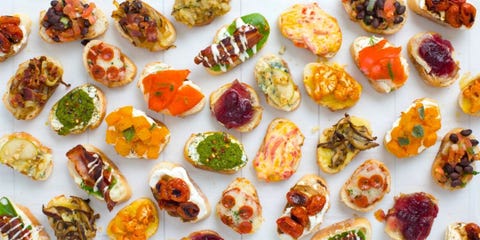 Mini toasts, also known as crostini, are the perfect party appetizer. You can top them with whatever ingredients sound delicious, whether sweet, savory, or spicy. Plus, what's not to love about a little carb-loading at a party? Looking for more appetizers? Check out our list of the 50 best appetizers.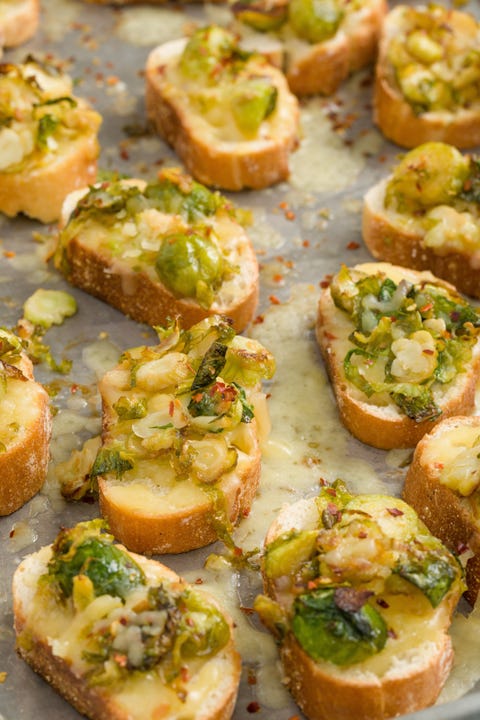 Cheesy Brussels Sprouts
Shredded Brussels sprouts sautéed in a mixture of garlic and crushed red pepper, then topped on toasts with white cheddar will leave you saying "Insane!" in the best way.
Get the recipe.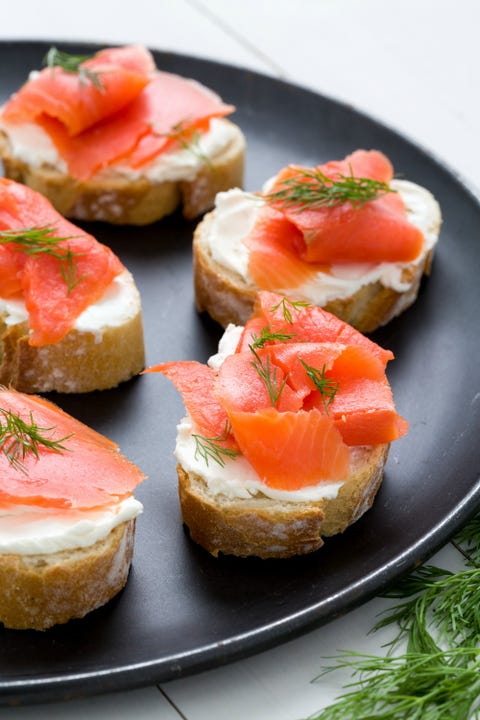 Smoked Salmon, Cream Cheese, and Dill
Top toasted or fresh baguette slices with cream cheese, thinly sliced smoked salmon, and fresh dill for everything you love about a bagel with lox.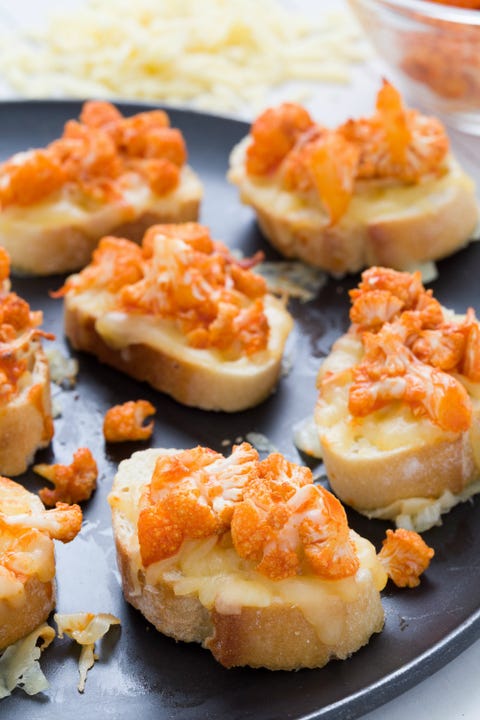 Cheesy Buffalo Cauliflower
If you haven't gotten on the buff cauliflower train, climb aboard: These pieces of roasted cauliflower are tossed with buffalo sauce and topped on white cheddar toasts.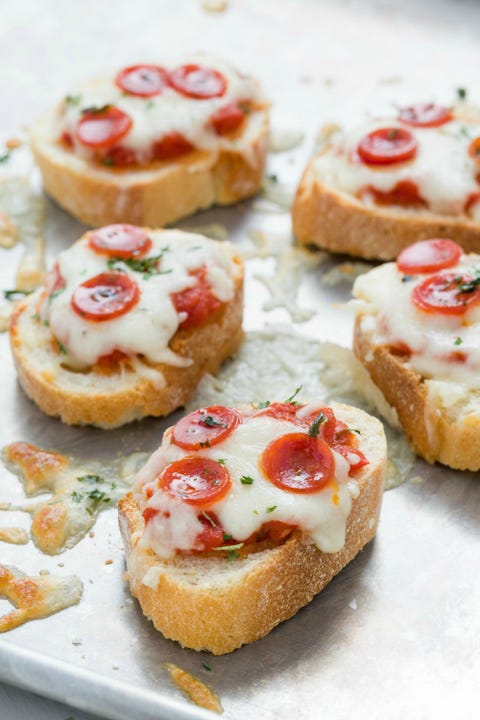 Pizza
Mini pizzas topped with mini pepperoni = WIN. Spoon marinara onto bread, top with shredded mozzarella and mini pepperoni, sprinkle with dried parsley, and bake until bubbly.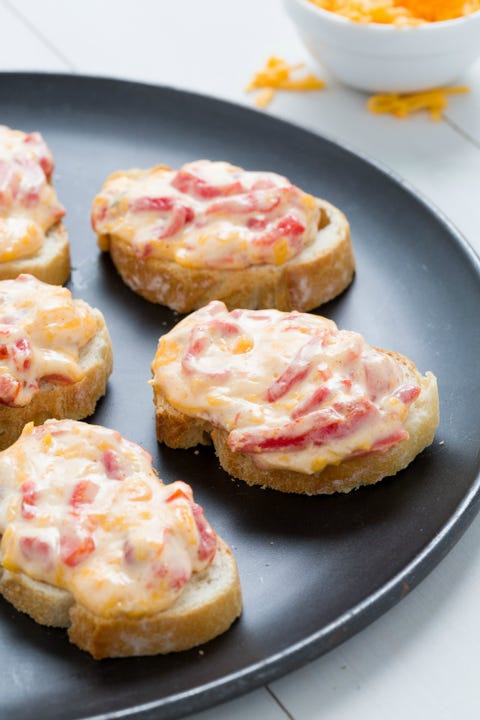 Pimiento Cheese
Mix together a little mayo, chopped pimiento peppers, and shredded cheddar, spoon over toasts, and bake until pimiento cheese is warmed through.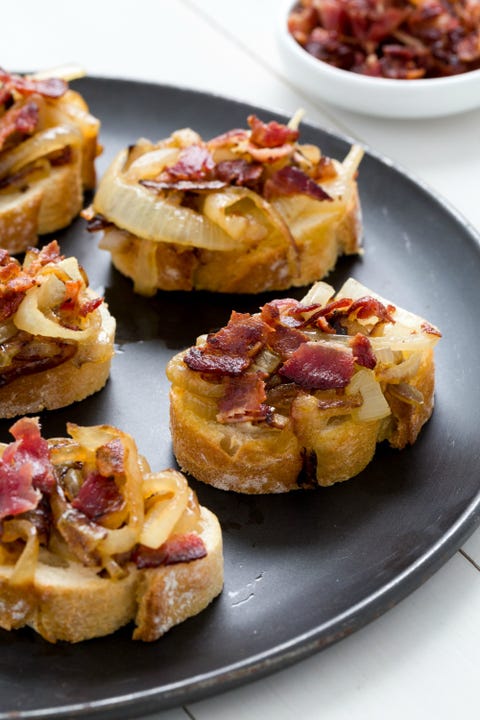 Bacon-Caramelized Onion
Give it to me now: Caramelizing onion in bacon fat will make all your neighbors want to come to the party. Brush crostini with olive oil, top with caramelized onions and chopped bacon, and bake until warmed through.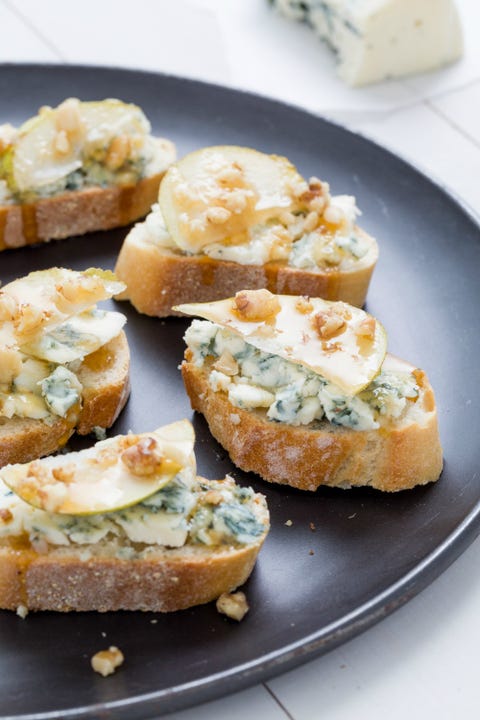 Blue Cheese, Pear, and Honey
Always a crowd favorite, blue cheese, thinly sliced pear, honey, and chopped walnuts is a classy-ass combo.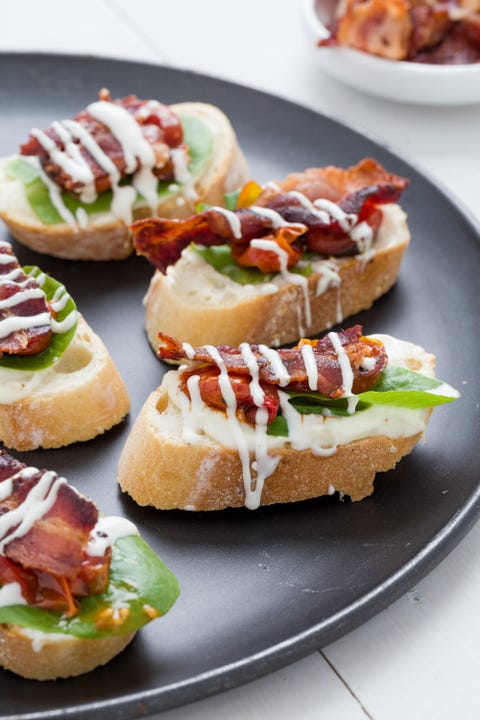 BLT
You love a BLT sandwich, so why not take the ingredients and turn them into an amazingly topped toast? Don't forget that ranch drizzle.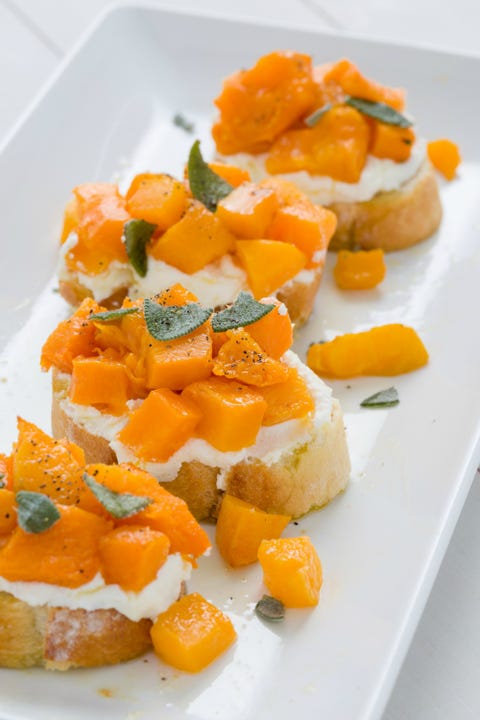 Roasted Butternut Squash, Ricotta, and Sage
This one takes a bit more time to prep to roast the butternut squash, but it's totally worth it: Paired with ricotta, roasted squash, and fresh sage, these are a total winner.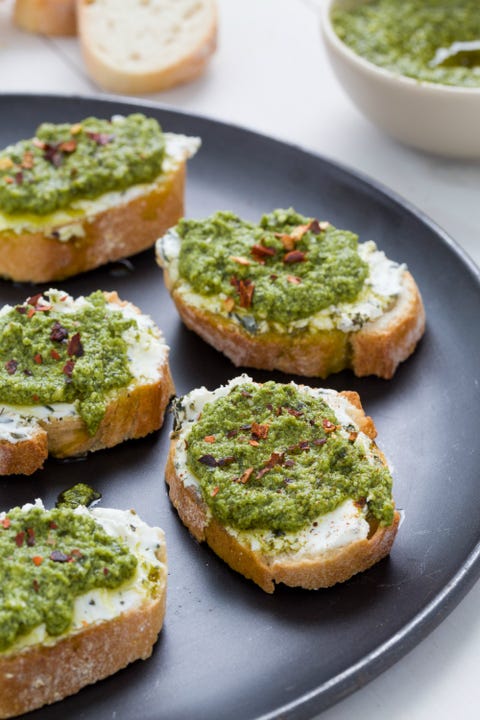 Pesto-Ricotta
This Italian fave will always be a hit. Simply slather baguette slices with ricotta, top with fresh pesto (use store-bought for a shortcut), and sprinkle with crushed red pepper flakes.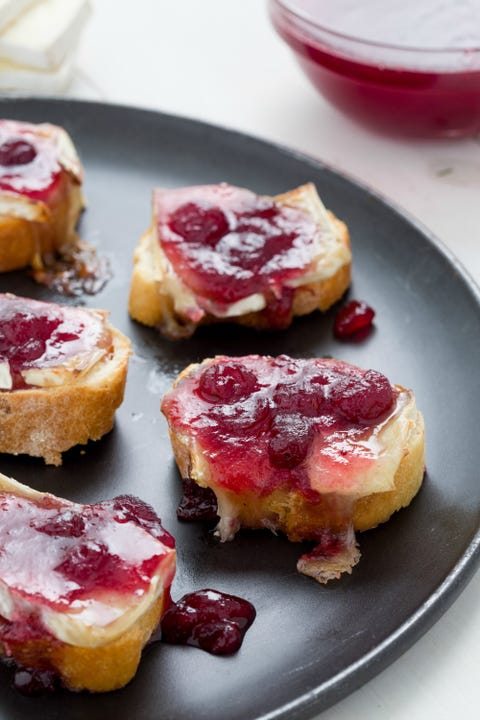 Cranberry Brie
No ones says no to Brie at a party. Top baguette slices with a hefty slice of Brie and spoon over whole berry cranberry sauce (no jellied stuff allowed here).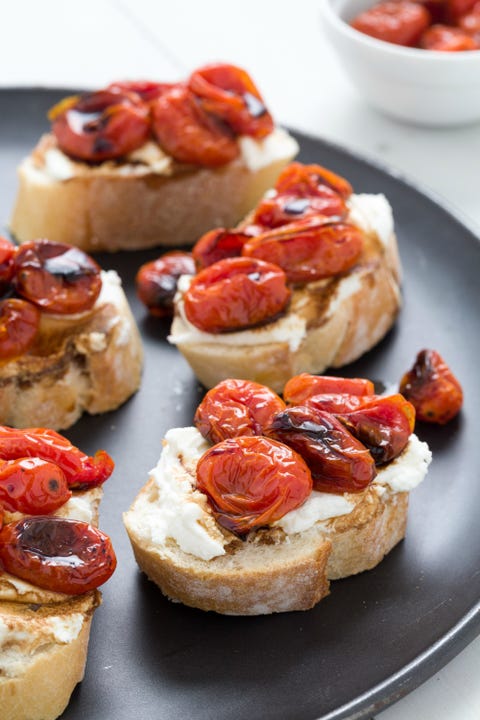 Roasted Tomatoes-Ricotta
Fresh tomatoes are fine, but roasted tomatoes with a splash of balsamic vinegar is a sweet party trick. Slather toast with ricotta, top with roasted tomatoes, and bake until warm.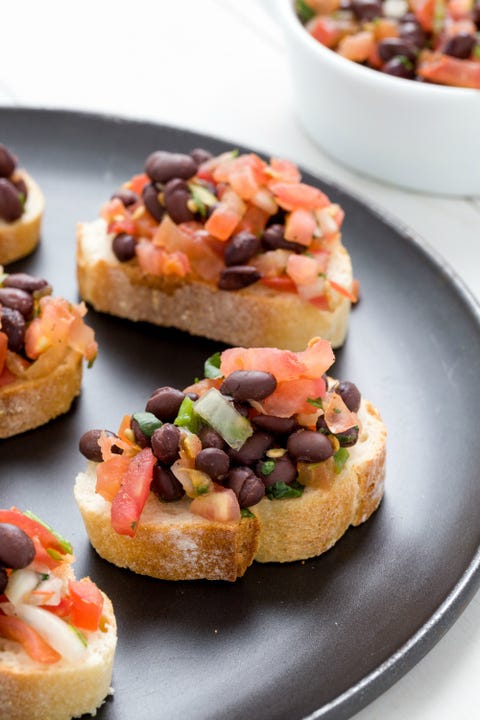 Black Bean-Salsa
This combination is perhaps the easiest ever: a can of black beans plus pico de gallo for a Tex Mex snack.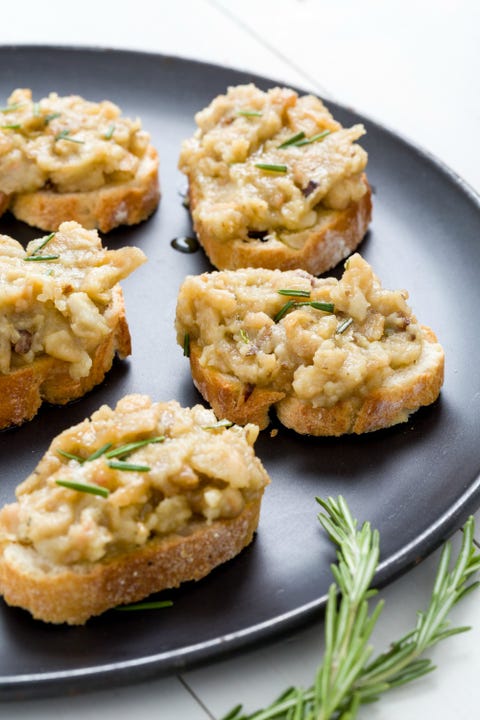 Garlicky White Bean-Rosemary
This classically Italian crostini is addictive. In a small saucepan, warm garlic and chopped rosemary in olive oil until fragrant, then add a can of white beans and mash. Spread on toast.