33 Mexican Appetizers To Kick Off A Party
¡Let's get this fiesta started!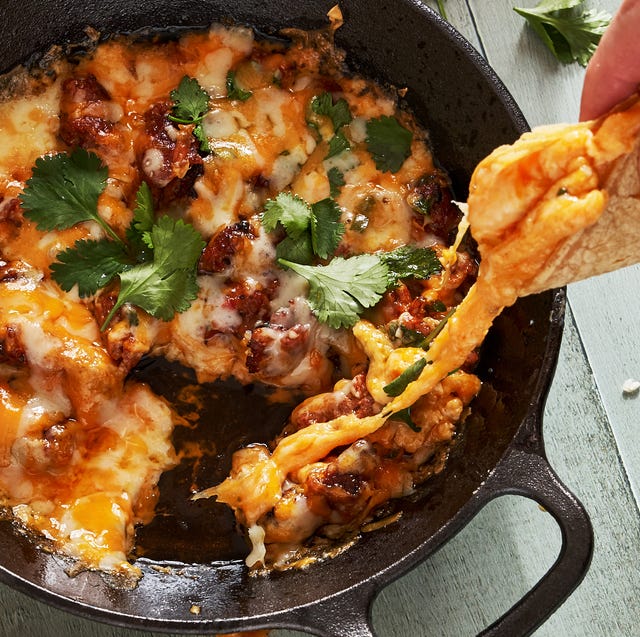 These tostadas, dips, salsas, and more are sure to start your party off right. When you've got guests coming over, make these to please the whole crowd—there's something for everyone in here. Check out our list of 30+ Mexican appetizers for ideas!
There's nothing better than the ease of chips and dips for a themed party, and Cinco de Mayo might have some of the BEST options. You've got to serve guacamole, of course, but don't forget about other Mexican-inspired faves like cheese dips and fresh salsas. We've got the classics, like our best queso dip and tomato salsa, plus fun spins like salsa verde or our instant pot street corn queso. Or combine the two, like in our salsa verde queso. The world of salsas and dips is infinitely adaptable. Our secret ingredient for most of them? Cream cheese! It doesn't taste like breakfast, and adds an extra layer of creamy oomph. Have vegan or vegetarian party-goers? The protein from beans can sustain you through an entire party's worth of drinking, so don't sleep on our refried bean dip or black bean and corn salad.
Speaking of, we've included a number of easy Mexican-inspired meat dishes fit for a party. Try making our chicken taquitos or cheesy beef empanadas on your own, or turn it into a party activity and get your guests to help! You could also put out some tortillas, toppings, and marinated meats like fish or chicken, and you'll have an easy taco bar. Looking for something hot to serve your guests? Try our sheet-pan chicken fajitas, crockpot salsa chicken, or sizzling steak fajitas that'll really wow your crowd.
Want more Cinco de Mayo inspiration? Check out our lists of our favorite Mexican desserts, tequila cocktails and Mexican beers too.