Delish editors handpick every product we feature. We may earn commission from the links on this page.
Carla Hall On The Evolution Of Soul Food And Her Favorite Cookbooks
"If we don't understand where we've been, there's no way we will ever value our history or our food."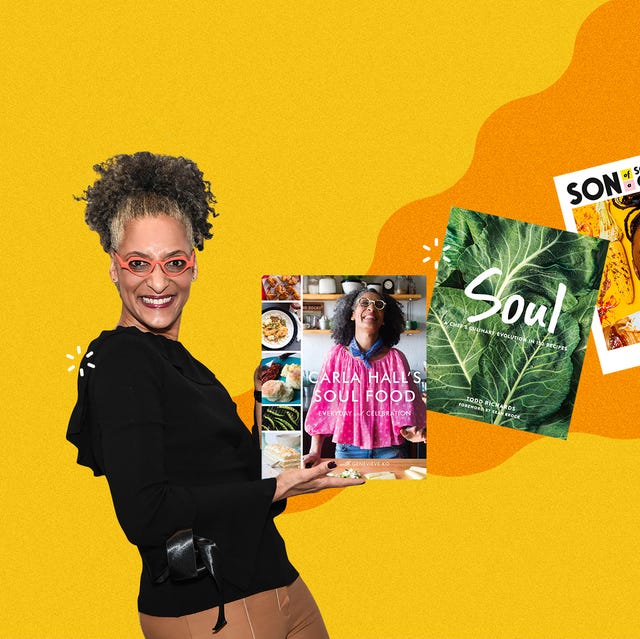 Although the term "soul food" means different things to different people, the one thing that remains consistent is what it needs to be created correctly: a lot of soul. That's exactly what celebrity chef, TV host, and former model (did you know this?!) Carla Hall makes sure to deliver in every meal. With a list of incomparably delicious cookbooks under her belt (Cooking With Love happens to be my personal favorite), Auntie Carla—who I have full permission to call refer to as such, BTW—makes it known that while soul food today can be many things, the one thing we must remember about it is how it started.
"As Black people, we are everywhere—our food is everywhere," Carla, who was born in Nashville, told Delish. "But the more you can allow yourself to be influenced [by] the way that soul food maybe 400 years ago was influenced, the richer we are." The chef credits a years-ago trip to D.C.'s NMAAHC with the realization that the cuisine was so much bigger than she'd ever imagined: "Until I was there and looking at the vast perception of all of the Black people from around the country, I'd never really thought about it. I thought that the South owned soul food because that's where I lived."
Now, as a longstanding icon in the soul food community, Hall has shifted her perspective of soul food and strives to reach and expand as many people's palates as possible. Before she can do that for you, though—and before she can give you her ultimate soul food cookbook recommendations—she'll need you to get past that one misconception that almost everyone (yes, including you) has about soul food: "that it's fattening or that it's going to kill you."
"Our food is so much more than...smothered pork chop or mac & cheese. Our food is a direct descendant from West Africa. When we think about the migration of some ingredients [crucial to soul food cooking] and you take the Africans, the Native Americans, the settlers—that makes soul food. We probably wouldn't have the soul food that we have if it weren't for the influence of the Native Americans. That's huge. Soul food is much bigger than the box that [people] have put it in." In summary? It is well worth your time to learn about where soul food really comes from: "If we don't understand where we've been, why we should feel proud of who we are as a people, and that we have made contributions, there's no way we will ever value our history or our food. We have to go back."
Though her soul food roots come from her grandparents—her family—that hasn't stopped the renowned chef from learning from her peers. These are the 10 soul food cookbooks you'll find in Carla Hall's kitchen.